LUCF's journey began as the Cambodian Children's Painting Project, a Cambodian non-denominational non-profit organization founded and registered in 2006. The founder, artist Roger Dickson, improved the quality of life for vulnerable children by providing access to a safe environment and daily education, nutrition, and art based programs.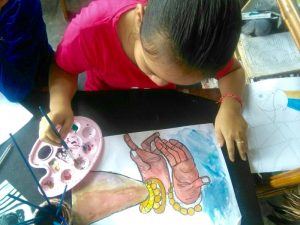 The organization has consistently upheld strong values in adapting services to best meet evolving community needs. In 2013 the organization developed a greater focus on delivering education based programing and this shift was reflected in the renaming of the organization as Let Us Create. During this time a permanent community centre was constructed using eco-friendly passive design principles.
In 2017, reflecting a new emphasis on early childhood education and maternal support, the organization has been renamed Let Us Create Futures. After extensive research and work within the community of Preah Sihanouk the organization has further developed its mission, vision, and goals in order to provide services that align with current community needs. A five year strategy plan has been developed that aims to empower and mobilize community. Programs focus on providing services with sustainable outcomes in health, education, and nutrition to members of the community who are most in need.